About French Language in Noida
After Completing the French Language Course in Noida opens the doors to the world's largest marketplace for top-notch employment and education. French is a widely used language for spoken and written communication across the globe.
In today's increasingly interconnected world, certification in multiple foreign languages is highly valued by students and professionals alike. At Day2dayfrench, our French Language Classes in Noida aim to assist students and working professionals in overcoming language barriers and improving their French language skills.
French, following English, is the second most widely spoken foreign language and is now spoken on all five continents. At the beginning of the twenty-first century, French was the primary language in over 25 nations. Approximately 60 million people in France, over 7.3 million in Canada, more than 3.9 million in Belgium, over 1.8 million in Switzerland, 80,000 in Monaco, 100,000 in Italy, and 1.3 million in the United States speak French as their first language. Additionally, over 49 million people in Africa use French as either a first or second language in countries such as Niger, Burkina Faso, Burundi, Gabon, the Central African Republic, Sudan, Congo, Mozambique, Côte d'Ivoire, among others. Even in Creole-speaking regions, French is often used on formal occasions.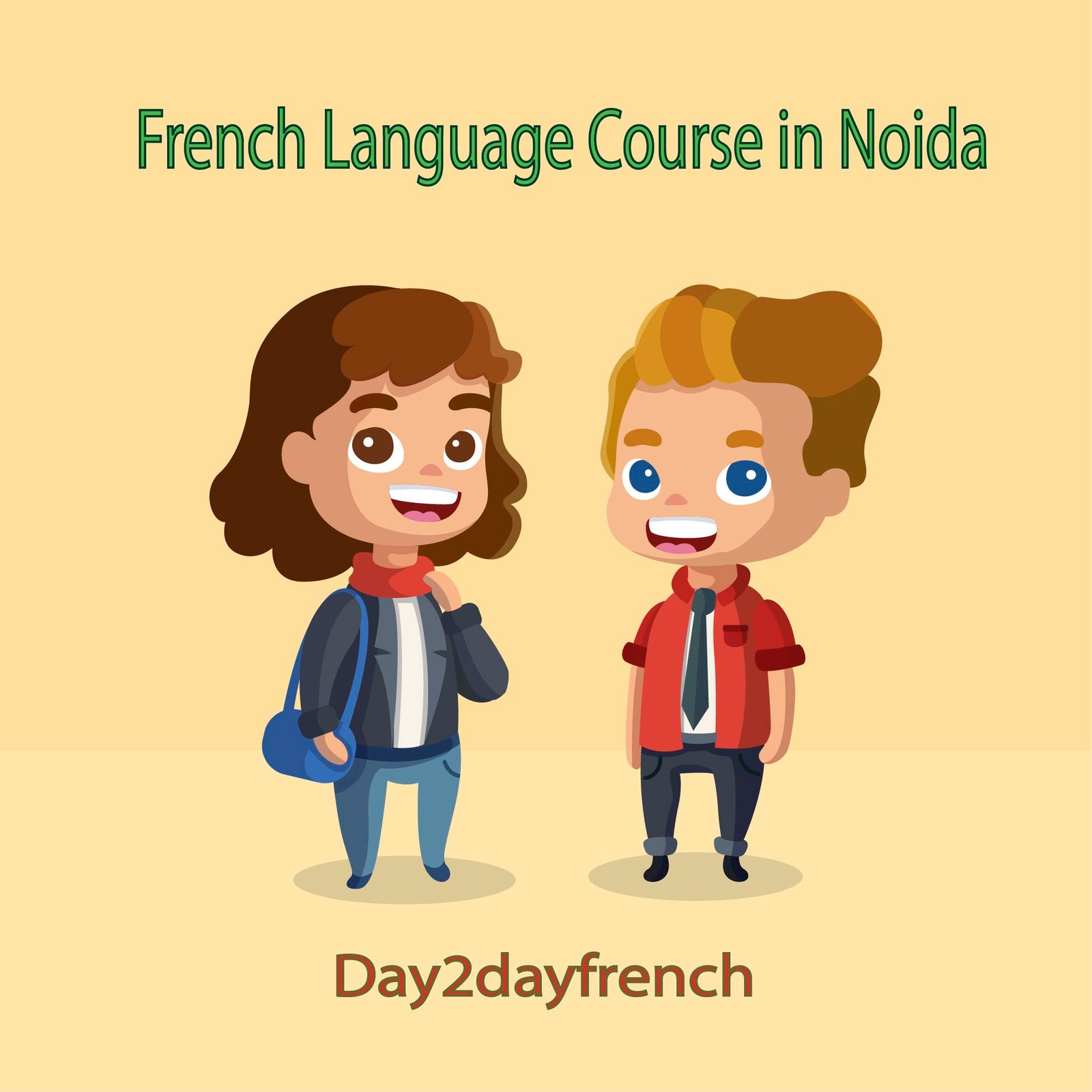 By mastering the French language through our French Language Course in Noida, you gain access to a vast network of individuals and opportunities spanning various countries and continents. The ability to communicate in French enhances your professional prospects and opens up a wide range of career opportunities in international organizations, diplomatic missions, multinational corporations, tourism, hospitality, and more.
Moreover, the cultural richness associated with the French language offers a unique perspective and a deeper understanding of French-speaking regions' art, literature, music, and history. Learning French also fosters intercultural connections and enriches personal growth.
With the support of Day2dayfrench's French Language Classes in Noida, you can develop fluency in French and unlock a world of possibilities in education, employment, travel, and cultural exploration.
What is the benefit of learning French Language?
The French language, among other languages, holds great potential and is highly valuable to learn. Proficiency in French enables individuals to collaborate closely with foreign diplomatic missions, as multilingual personnel are regularly required.
Professionals can engage in translation and interpretation work, assisting with data input and communication challenges. In French-speaking countries like France, linguists can find employment in the hospitality and tourism industries. Working as a tour guide allows individuals to organize and assist visitors in understanding the local culture and historical significance in a common language.
Furthermore, opportunities exist in the service industry, marketing, and sales professions. Aspiring individuals can pursue further education, such as a doctorate or master's degree, and work as educators or teach French to students in India or overseas. There are also opportunities to work with renowned French-based sales and e-commerce companies. Students can secure administrative positions, helping run businesses for clients around the world. Learning French not only sharpens interpersonal skills in a foreign language but also promotes cultural exchange.
For those interested in the field, enrolling in French Language Training in Noida can lead to various career paths. The demand for experts in French grammar, phonetics, and linguistic education is continuous. Proficient French language learners can become instructors and share linguistic techniques with students worldwide. French Language Classes provide the necessary foundation for pursuing a career in this industry.
Students can engage in market research, content creation, animation design, or specialized writing in specific fields. This enables businesses to cater to the needs and requirements of specific regions and develop potential products and services to meet those demands. The French Language Course in Noida assists individuals in building a successful career across a variety of disciplines by leveraging the use of French in their professional endeavors.
Overall, learning French offers a gateway to a wide range of professional opportunities, both locally and internationally. It enhances communication skills, and cultural understanding, and provides a competitive edge in today's globalized world.
Day2dayfrench for the best French Language Training in Noida
Day2dayfrench stands as the premier destination for the best French Language Training in Noida. Our institute boasts a team of dedicated trainers who constantly strive to employ innovative teaching methods in order to make learning the French language an enjoyable experience. Our French Language Trainers in Noida are language experts with exceptional proficiency in French. With over ten years of experience in teaching individuals seeking to enhance their French language skills, they possess the expertise to guide students effectively.
At French Language Training in Noida, our professional experts provide students with precise learning flexibility. They enhance comprehension and application of key themes in French vocabulary through real-life examples. Additionally, they assist with interview questions and responses, as well as enrich children's coursework. With their guidance, you will undoubtedly witness remarkable improvement in your French language listening, reading, writing, and speaking abilities. This makes Day2dayfrench renowned as the top French Language Institute in Noida.
We have developed customized course modules for our French Language Classes in noida, aligning them with the benchmark level set by the Common European Framework of Reference for Languages (CEFR). Day2dayfrench has obtained accreditation from the CEFR for this course. By enrolling in our program, you can expect a significant expansion of your vocabulary, as well as a deep understanding of verbs and sentence structures.
To cater to the diverse needs of our students, we offer flexible batch durations and encourage efficient communication between students and designated specialists. Day2dayfrench provides weekday evening, afternoon, and weekend classes, allowing you to select the sessions that align with your objectives and preferences. Additionally, our French Language Training in Noida offers online and corporate training options, granting students the flexibility to choose their preferred mode of learning.
We ensure that our French course fees in Noida are affordable, making it accessible to individuals from all walks of life. This ensures that learning French becomes not only a beneficial academic pursuit but also an economically feasible and rewarding experience.
At Day2dayfrench, we are committed to providing the best French Language Training in Noida, enabling our students to achieve fluency in the language and embark on successful linguistic journeys.
Online Classes
Online classes offer a flexible and convenient approach to education, allowing individuals to learn from any location and at any time. At Day2dayfrench, our certified instructors are highly proficient in the French language. With over ten years of experience in teaching French, they possess the expertise to guide students and enhance their understanding of the language's fundamental elements.
Through our online French Language classes in Noida, our instructors provide comprehensive instruction on the grammatical aspects of the French language, as well as an extensive vocabulary. They employ a comprehensive approach that simplifies the learning process for non-native speakers, making it easier to grasp the intricacies of French. You will learn the essentials of sentence construction and word formation, with a focus on developing a strong foundation in the language.
Our trainers are dedicated to the growth and advancement of our student's knowledge and skills. They take the necessary steps to ensure that you grasp all the tense forms in the French language. With their rigorous training and guidance, you can confidently become a fluent French speaker.
Join our Online French Language course in Noida and embark on a journey to learn one of the most revered Romance languages from the comfort of your own home. Our trainers will assist you in mastering French pronunciation, sounds, and vocabulary. You will gain a solid understanding of essential topics in the French language, enabling you to communicate effectively and confidently in various real-life situations.
At Day2dayfrench, we are committed to providing high-quality online French language training, ensuring that you receive a comprehensive and enriching learning experience. Join our online classes and unlock the doors to fluency in the beloved French language.
Course Eligibility
Freshers
Students
Bachelors & Graduates
Any professional person
Abroad studying students and professionals
Candidates are willing to learn something new.
Our French Language course is designed to cater to individuals from various backgrounds and interests. The course is open to:
Freshers: Individuals who are new to the workforce and want to acquire valuable language skills to enhance their career prospects.
Students: Those currently pursuing their education at any level, whether it be in school, college, or university, and wish to expand their language proficiency.
Bachelors & Graduates: Individuals who have completed their undergraduate studies and want to further enhance their language skills for personal or professional growth.
Any professional person: Working professionals from any field or industry who recognize the importance of learning French and wish to develop their language skills to excel in their careers.
Abroad studying students and professionals: Students and professionals who are planning to study or work abroad in French-speaking countries and want to communicate effectively in the local language.
Candidates are willing to learn something new: Individuals with a passion for learning, exploring new languages, and embracing diverse cultures, regardless of their educational or professional background.
Whether you are starting your career, pursuing education, seeking personal growth, or preparing for international opportunities, our French Language course welcomes learners from all walks of life.
Trainer Profile of French Language
Our French Language trainers possess extensive experience of over 8+ years in corporate French language training. They have a diverse background of working with corporate professionals across different regions, establishing themselves as industry benchmarks in delivering French language training. Their expertise extends to various profiles within the field, including French Translators and French trainers.
At Day2dayfrench, our trainers are skilled in providing training at all levels, from beginners to advanced, ensuring comprehensive fluency in speaking French. They have a natural aptitude for teaching the French language and possess the ability to explain complex concepts in a simple and accessible manner, catering to students from diverse backgrounds and varying levels of experience.
Day2dayfrench Certification holds immense credibility and is recognized for its ability to enhance your knowledge and pave the way for a successful career. Our trainers are dedicated to providing training that equips you with the skills to communicate fluently in the French language.
In addition, Day2dayfrench provides an ISO certificate to students upon successful completion of the course. This certification further validates the knowledge and proficiency gained during the training program, boosting your credentials and professional credibility.
Rest assured, our trainers at Day2dayfrench are committed to delivering high-quality French language training and ensuring that you develop the necessary skills to speak the language with fluency and confidence.
French Language Exams & Certification
Day2dayfrench offers French Language Exams & Certifications that hold immense credibility and can significantly enhance your knowledge and skills in the French language. Our certification serves as a valuable credential, paving the way for a successful career as a fluent French speaker in the professional world.
Our training programs are designed to provide practical and comprehensive language training, enabling you to develop excellent speaking skills and achieve fluency in French. With our focused approach and expert guidance, you will gain the necessary proficiency to communicate effectively in various real-life situations.
In recognition of your achievements and growth in the French language, Day2dayfrench provides ISO certificates to students upon successful completion of our training programs. These certificates further validate your language skills, boost your career prospects, and open doors to job opportunities worldwide.
By earning Day2dayfrench Training Certification and ISO certificates, you demonstrate your dedication to mastering the French language, enhancing your professional profile, and increasing your chances of success in a globalized job market.
Rest assured, our certification and training programs are designed to provide you with the necessary tools and skills to excel in your French language journey and capitalize on the numerous career opportunities available to fluent French speakers.
Proficiency After Training
Proficiency in the French language opens up a wide range of career opportunities, allowing you to excel as a Translator, Interpreter, and Mediator. As a language expert in French, you can contribute to the teaching profession by helping individuals learn French as a second language.
Numerous multinational corporations (MNCs) actively seek French language experts and specialists for outsourcing work. Many Knowledge Process Outsourcing (KPO) and Business Process Outsourcing (BPO) companies have French processes in place, offering lucrative remuneration for skilled professionals.
French, known for its ideas and innovations, presents extensive business opportunities on a global scale. The language has given birth to exceptional literature, music, artists, theater, and philosophical history that has enriched the world. As an artist, you have the potential to enhance your career and cultural exposure through the vast contributions of the French artistic landscape.
The demand for French language professionals extends beyond traditional career paths. It also encompasses fields such as tourism, hospitality, international relations, diplomacy, journalism, fashion, and more. The ability to communicate fluently in French increases your employability and expands your opportunities for global engagement.
With the proficiency gained through our training, you will be equipped with the language skills to pursue a successful and fulfilling career in various industries and professions. French language expertise is highly valued and can set you apart in the job market, both nationally and internationally.
Day2dayfrench Training ensures that you attain the necessary proficiency to thrive in your chosen career path and seize the numerous opportunities available in the dynamic and diverse world of French language and culture.
Key Features:
Skill Level:
Our training caters to individuals at all skill levels, from beginners to experts. Whether you are starting from scratch or seeking to enhance your existing French language skills, our courses are tailored to meet your specific needs and proficiency level.
Course Duration:
Our comprehensive French language training program spans a duration of 12 weeks. Within this timeframe, you will undergo 90 to 110 hours of intensive learning, combining teaching sessions and practical exercises. This ensures a well-rounded and immersive learning experience.
Total Learners:
To date, we have successfully trained and guided over 2000 learners in their French language journey. With a track record of 100+ completed batches and a 100% course completion rate, we take pride in our commitment to student success and satisfaction.
By enrolling in our program, you join a community of learners who have benefited from our effective teaching methods, comprehensive curriculum, and dedicated instructors. We prioritize the individual progress and growth of each learner, ensuring a supportive and conducive learning environment.
At Day2dayfrench, we strive to provide the highest quality training that empowers you to achieve your language goals and embark on a successful French language journey.
You may also want to check out other related articles:
Diploma course in french language
A Guide to french conversation and small talk
Frequently Asked Questions and Short Answers:
Do we need to learn French as a compulsory language for emigration to French countries?
While learning French is not always a compulsory requirement for emigration to French-speaking countries, having proficiency in the French language can significantly enhance your experience and opportunities in those countries. It allows for better integration into the local culture, improves job prospects, and facilitates communication with the local population.
How long do French language classes in Noida last?
The duration of French language classes in Noida can vary depending on the specific course and level of proficiency desired. Typically, our French language courses in Noida span a duration of 12 weeks. During this time, you will engage in comprehensive training sessions, including both teaching and practical sessions, to develop your language skills.
What are the benefits of taking a French language course in Noida?
Taking a French language course in Noida offers numerous benefits. It equips you with the ability to communicate effectively in French, which can open doors to career opportunities in various industries such as tourism, hospitality, international relations, translation, and more. French is also widely spoken around the world and learning it provides you with a deeper understanding of French culture, literature, and art. Additionally, learning French enhances cognitive abilities and expands your global perspective.
What if I'm unable to attend the French course sessions?
We understand that scheduling conflicts may arise. If you are unable to attend certain French course sessions, we strive to provide flexibility through various options. We offer weekday evening, afternoon, and weekend classes to accommodate different schedules and commitments. Additionally, we provide online training options, allowing you to access the course material and participate in classes remotely. We aim to support your learning journey and ensure you have the opportunity to benefit from our French language course.
What kind of person should enroll in this French language course?
Our French language course is suitable for individuals from various backgrounds and interests. Whether you are a student, a working professional, someone seeking to enhance cultural and linguistic knowledge, or planning to emigrate to a French-speaking country, our course caters to your needs. We welcome anyone with a passion for learning and a desire to develop proficiency in the French language.