If you want to take language classes abroad in Noida. The city also boasts some excellent institutions that instruct in the study of German, French, Spanish, and other foreign languages. It starts at the most fundamental levels and moves up.
Hope this information will help you learn more about a few reputable language schools. It can assist you in Noida in learning a variety of foreign languages. The Indian National Capital Region (NCR) includes the master-planned metropolis of Noida.
The city has drawn numerous industrial giants and businesses providing IT, ITeS, BPO, and KPO Services in a variety of industries including banking, finance, insurance, pharma, auto, fast-moving consumer goods, and manufacturing. entertainment, and export-oriented thanks to a most favorable and hospitable environment for rapid industrial expansion.
Noida is the ideal place to start if you are a fresher looking for work in Delhi or the National Capital Region. It has many job openings in a variety of industries, and its employment growth rate is respectably strong.
You can apply as a language specialist to numerous firms after learning a foreign language, including HCL, Tech Mahindra, IBM, Samsung, Accenture, I-energizer, Adobe, and many more.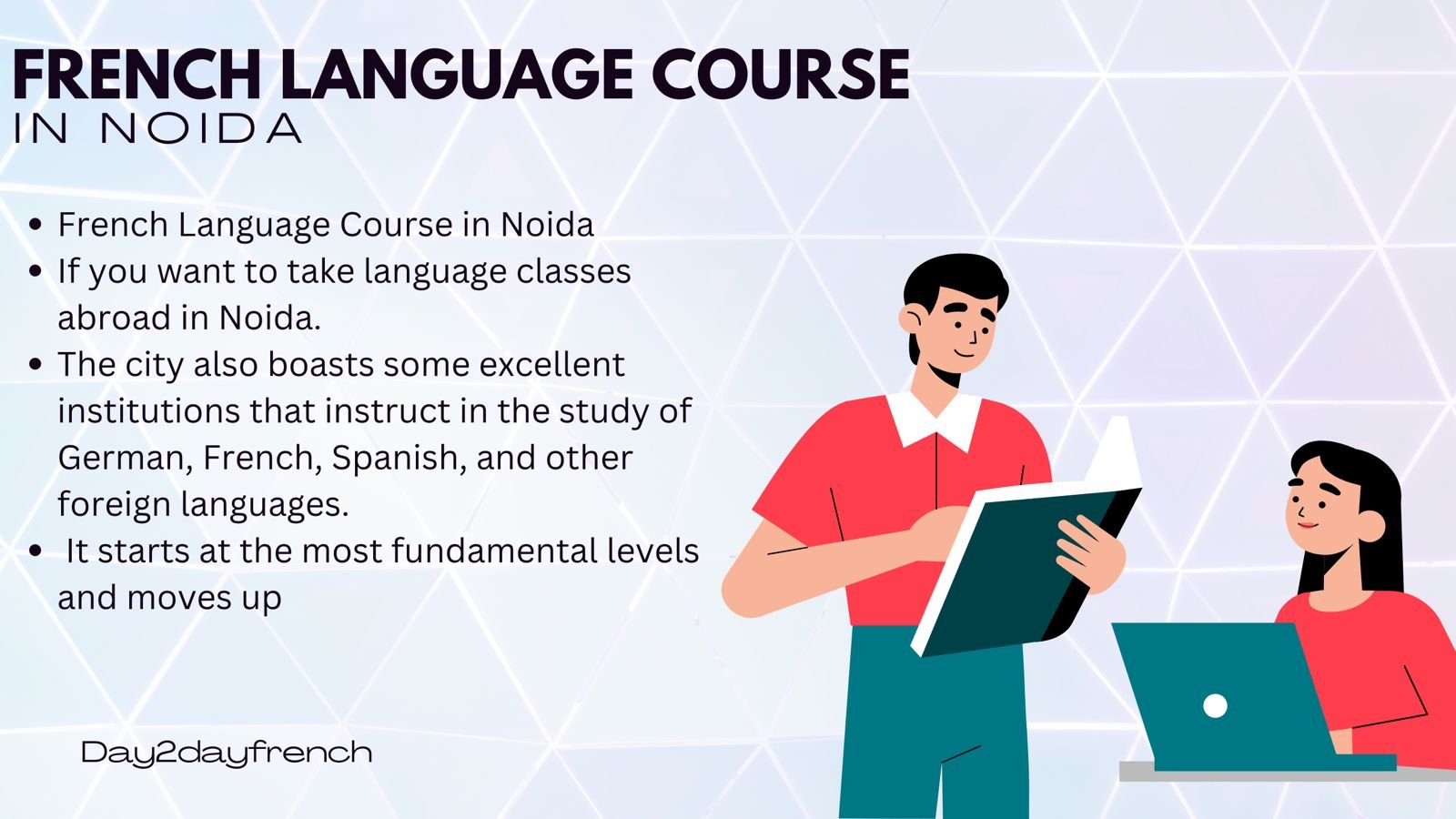 French Language Course
Levels:
A1 Beginner
A2 Elementary
B1 Intermediate
B2 Fluent
C1 Advance
C2 Bilingual
A1: This level is the basic learning level. It is the beginning level of learning French. This is where people learn how to greet, share personal details like introducing themselves, ask and answer questions about personal details, grammar lessons, adjectives, adverbs, listening lessons, prepositions, accents, how to identify everyday words and how they are spoken, etc.
A2: This level of learning French is low intermediate. This is where adverb positioning, how often adverbs occur and where to be used, enhancement of vocabulary, writing skills, reading, pronunciations, etc. are learned. A person can communicate simply like asking for directions and understanding frequently used words when spoken clearly.
B1: It is the Intermediate French. Completing this level indicates an independent speaker who understands the language when spoken, can communicate with French speakers of different countries, can easily comprehend and translates French, and use it in his/her workspace.
B2: This level of completion shows that a person is fluent in the French language. The person can understand complex sentences and speak French without hiccups. This level gives you the give to use French in your career and get jobs as an interpreter, translator, teacher, etc.
C1: This level indicates an Advanced French speaker. A person, after completing this level, can take a full career in the French language whether in a professional, social, or academic way. This level indicates an advanced-level speaker who organizes and articulates his speeches in a well-structured way. A person can live in France, get a job, and do it on par with a native French speaker.
C2: This level shows mastery of the French language. A person can understand everything he listens to or reads in French whether complex or easy, whether spoken clearly and softly or fluently. He/she can summarize information from various sources and help someone else by translating.
French Language Course Fees
The cost of the course varies from city to city, state to state. The beginning course starts from Rs 12000 to Rs20000. The lower one is for small while the upper limit showcases the major cities like Delhi, Mumbai, Bangalore, etc.
French Language Duration
Duration of the course also varies from 4-6 months depending on the learning institute.
French Language Classes in Noida
Day2dayfrench
Day2dayfrench is a well-known foreign language school in Noida that provides the top foreign language training services. The institution offers both students and working professionals a foreign language training program with well-structured modules. The facility is currently providing a variety of French and Spanish classes in Noida. Chinese, Japanese, and German language classes will also soon begin in Noida.
One of the most unusual, stunning, and frequently used languages in the world is French. This magnificent French institute is located at 7/103 sector 2 Rajendra Nagar Sahibabad, Ghaziabad, Uttar Pradesh 201005, and offers individualized attention to everyone who requests it. Thus, it addresses every crucial area where a student falls short.
Recommended Reads:
French Language Institute in Noida 2022
Best Foreign Language Institutes in Noida 2022
Scope of French Language in India
Top french language Institute in Delhi NCR 2022